Live now on Indiegogo, help bring the rich and wondrous world of Blue Bastion to life
Here at FanboyNation, we love artists and do our best to support their work, especially when it's a friend. T.E. Marshall is looking to bring his rich fantasy world to life.  Check out the official synopsis:
"
An Unprecedented Journey
Written in USA, Drawn in Brazil- BLUE BASTION explores a Utopia run by 6 Elders + 1 King and the conflicts they face maintaining peace in a volatile world. A central theme of Blue Bastion is the use of Gauntlets much like modern-day smart phones. With all citizens wearing "Grain Gauntlets", every one has a bit of magic at their fingertips!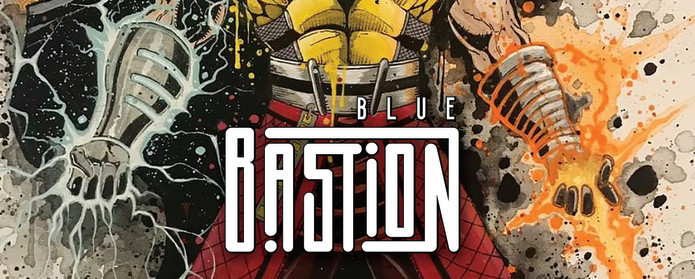 A Race Unlike Any Other
In BLUE BASTION, you'll be introduced to the scenery through the eyes of renegade citizen Master Euclid Syfer, as he competes in The Path To Kingship, a 3-year long series of chariot races. With the ultimate prize being the crown, will Euclid win and become the next King?

A Blend Of Sci-Fi & Fantasy
As you turn the pages, you'll watch a world grow in front of your eyes.
But before you enter, you should know a few things:
Blue Bastion is a planet.
The planet has 3 States – The Capitol, The Slums, & The Impact Site.
There are no cars. Instead, citizens use their Grain Gauntlets to generate creatures called Constructs that they use as companions and vehicles.
Grain Gauntlets are powered by batteries called "Grain Cores".  Grain Cores are obtained through the unethical use of slaves called Harvesters. One motivation for our heroes is to invent a new core. But will the Traders in the Slums like this?
All Citizens of the Capitol must attend the Blue Bastion Academy from 8 years of age until they graduate at 28 during a ceremony in the Elder Temple.
After graduating, Citizens choose to become a Builder, Councilor, or Master.
Builders create goods for the Capitol and can become a CELEBRITY.
Councilors work in the Elder Temple and can become an ELDER.
Masters compete in chariot races and can become the next KING." [via Blue Bastion Indiegogo]
Blue Bastion hits the grown running with deep lore and a masterfully developed world. Inspired by the great tales of the past 3 millennia, T.E. Marshall has infused his world with the spirit of old and the look of the future. In the artwork below, you can feel the mashup of science and magic as they coalesce into the epic images you see below.
Be sure to their Indiegogo to support the project and find out all the different rewards, stretch goals and everything there is to know about the Blue Bastion world.